Florida AmeriFlux Project
Funding: Southeast Regional Center, National Institute for Climatic Change Research
PI's: Timothy A. Martin and Wendell Cropper
Florida AmeriFlux Publications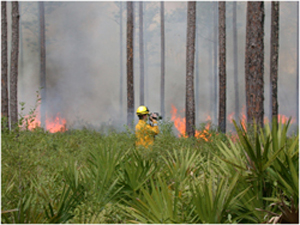 Measuring stem temperatures with an infrared camera during a prescribed fire at the Austin Cary Memorial Forest AmeriFlux site.
The Florida AmeriFlux program is a part of the AmeriFlux network, a continent-wide system of studies in over 100 representative ecosystems designed to improve our understanding of the controls over terrestrial carbon balance. The Florida AmeriFlux sites use eddy covariance (EC) instrumentation located on towers at each site to continuously measure ecosystem-scale carbon, water and energy fluxes on a half-hourly time step.  The EC data are complemented by detailed physiological and ecological measurements at the sub-ecosystem level. 


Most of the Florida AmeriFlux research has utilized the chronosequence approach, in which pine ecosystems at different stages of development are sampled concurrently.  Pinus elliottii plantation growth stages sampled include a ~ 24 year old "rotation aged" stand, an "aggrading" stand planted on the same site after harvest of the rotation-aged stand, and a stand approximately half way through the management cycle (Donaldson Tract "mid-rotation" stand).  A third and fourth permanent sampling tower are located in a mature (~ 80 yrs old), naturally-regenerated forest dominated by Pinus elliottii and Pinus palustris (Austin Cary Memorial Forest "naturally regenerated" stand).  The Austin Cary site serves as a less-intensively managed contrast to the plantation sites, and allows us to approach issues that cannot easily be addressed in the plantations, such as the role of the understory in ecosystem carbon sequestration, or the effects of prescribed fire on ecosystem C dynamics.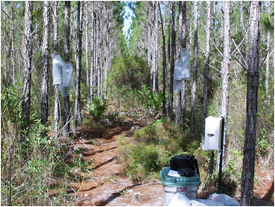 Individual tree sap flow measurements at the Donaldson Tract slash pine plantation site.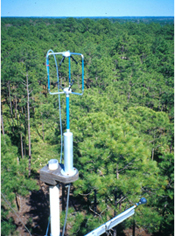 Sonic anemometer (with attached gas sampling tube) and net radiometer at the Austin Cary Memorial Forest AmeriFlux site.